I do apologize for not posting lately. I've been crafting as much as ever, but the majority of what I've been making are items I can't post about. I've started work on Christmas gifts. I decided that this year, since money is quite tight, I will make as many gifts as I can. Hopefully the recipients will appreciate the handmade love that has gone into each and every one.
I've also been working on items for my first swap! It is a 'green' themed swap, meaning at least one item should be somehow related to recycling, repurposing, or reusing something. I'm so excited. It was such a blast to 'stalk' my secret swap partner, and then try and come up with ideas and items she would like. The box was sent just over a week ago and was at her post office yesterday. Once she's had a chance to post I can share it with all of you. :)
In the meantime...I have done 2 test knits since my last post. The first was for a Harry Potter
Garden Gnome
, by Phoeny. Don't you just love his wee belly button?!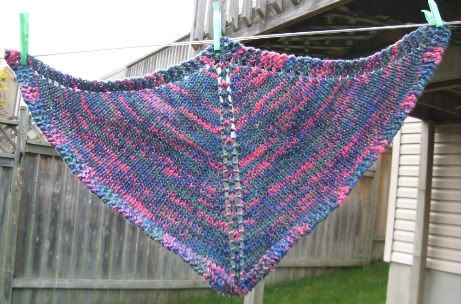 The second was the
Fall Down Shawlette
by Lnand on Ravelry. I loved this pattern. It calls for bulky yarn, but as I didn't have any bulky I used 2 strands of worsted yarn. It knit up extremely quickly (I finished it in under 2 days) which I found very satisfying.
I also completed another Phoeny pattern as a quick gift for my mother for Thanksgiving. This one was a free pattern and just super adorable. Meet
Russet the Pumpkin
. Here he is posing with the finished turkey.
I shall post the swap related goodies that I crafted hopefully by the week's end. Until then, happy crafting!
*huggles*