Wow I've fallen behind. Lots of new things to share.
First, as a gift to the twin of the girl that received Snape, I made a little collection. To the right is the final product. Inside is a glass jar of pomegranate sugar body scrub, 2 washcloths and a face scrubbie, all made of the same yarn.
The cloth on the right is the same pattern as the white one I posted previously. The square one is a
DW Cloth.
I love how the carries look. I've posted pics of the face scrubbie in a prior post I think.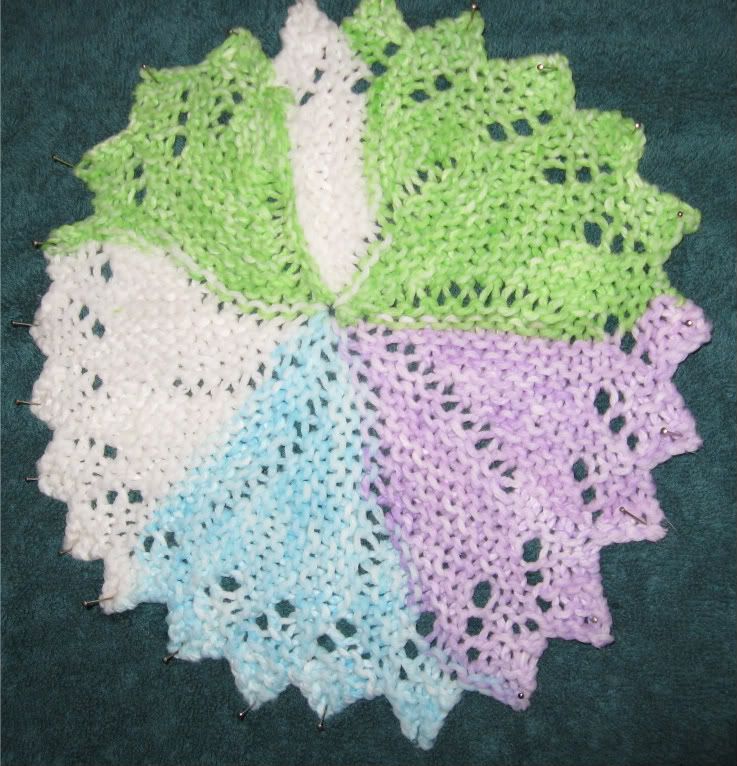 Edit: Woops, just looked and I didn't show the scrubbie before, so here it is with the one I HAD made and posted before. :)
After these were all done and gifted, I started work on a new cloth that caught my fancy. It's called the Pi Cloth. (above right) There are so many ways to personalize this cloth, as you have 3 sections to do whatever pattern you chose. I rather like how it turned out. I still need to block it to hopefully get it to lay flat in the middle.
Finally, I've joined my first ever KAL (Knit Along)! It's so much fun! It is a mystery KAL which is even cooler. I have no idea what the end product is going to be. A new bit of the pattern is posted every week for 3 weeks. This one is a toy pattern by an amazing and inspiring pattern creator who goes by Phoeny on Ravelry.
Here is week 1. The head and body.
I'm currently working on week 2 which is arms/legs. So no, it is not a penguin (my first guess as I played with the pieces). Though I'm partial to penguins as they are my sweethearts favourite :)
So that is what I've been up to. How about you?
Until next time, Happy Crafting!
*huggles*
Edit: sorry for the bad layout. Blogger is being a pain today. *sighs*