Hi there!
So you may have noticed I always sign off with *Huggles*. I love huggles! How does a huggle differ from a hug you may ask? A huggle involves every bit of you. Your mind wishing the person well, your soul sending good cheer/comfort, and your arms giving a squeeze full of care (often combined with a rocking motion).
Why all the huggle talk? Well, a group mate on Ravelry was having a hard time this month, and I wanted to send a RAK to cheer her up. "Well, why not send a huggle?" I thought. But what would a huggle look like? I first made one that would sit in the palm of your hand. Sort of a snowman shape with long arms. But it didn't feel portable enough and I wanted to call it a portable or traveling huggle. I'd been working on another project that had a yellow happy face in it, and it just clicked with huggle, so I made another and ended up with:
I put magnets in his hands so that he could actually 'huggle' your wrist. Unfortunately the magnets sold at the craft store in town apparently aren't strong enough to hold thru a layer of yarn. Blah. The recipient received it this week and said it did help cheer her up a bit so mission accomplished!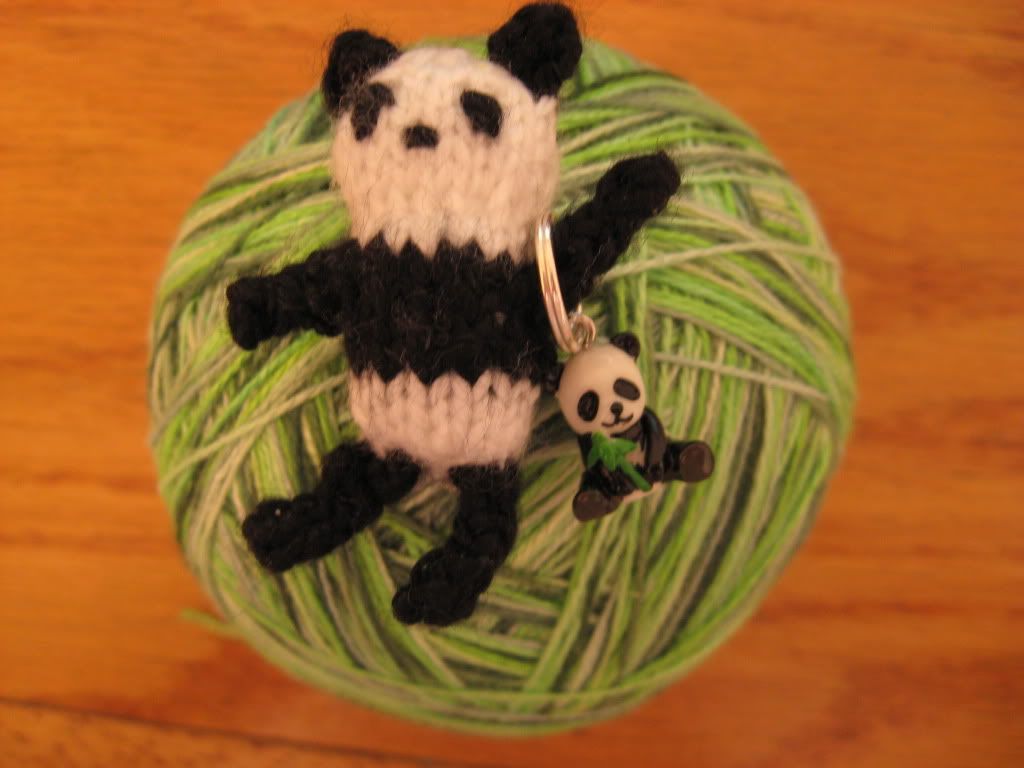 I also received a wonderful surprise RAK this week! You may remember the itty bitty panda I knit awhile back. Well, I have a picture of it as my avatar on Ravelry. Justanotherbrick found a wee charm that perfectly matches my panda and made it into a stitch marker for me! My first ever fancy stitch marker. I absolutely love it! The fact that she even thought of me while in a store filled with a zillion goodies makes me feel wonderfully warm and special. I shall treasure it always :) Here's a picture of them hanging out together. Isn't he just precious?!
Until next time...
*huggles*